SEO Service
Search Engine Optimization
Search Engine Optimisation and Search marketing especially for e-commerce
SEO Facts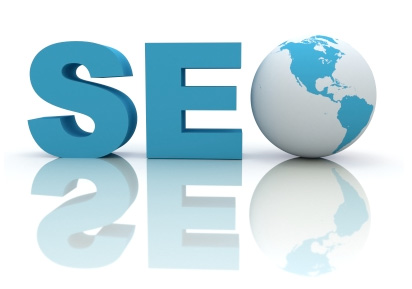 Why do I need Search Engine Optimization (SEO)?
Why SEO takes time and requires an on-going investment?
Why is there such a price difference between SEO companies?
Any lock-on Contracts!?
How do you maintain quality and excellence in the delivery of your product?
Why do I need On-page Optimization?
Can you guarantee the #1 position on Google?
Do you follow the guidelines set out by the search engine
Why do I need Search Engine Optimization (SEO)?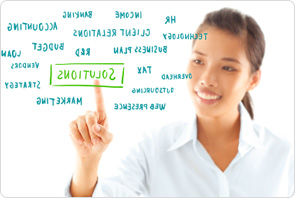 In this new age of information businesses big and small are utilizing what is known now to be the most powerful marketing platform every know. That marketing platform is, of course, the internet. However, doing business on the "Internet" has become more cut throat than ever.
Now more than ever businesses should capitalize on every opportunity that they are presented with. In fact, if a powerful money making opportunity does not present itself, they should create one for their companies. To do that, the Internet holds limitless opportunities. SEO is by far one of the most powerful marketing tools that can be used to capitalize on these opportunities".
There are tens of millions of websites on the internet with billions of pages. To be listed in the search engines result pages (SERP's), the search engine must decide that your site/page is relevant and authoritative to the search terms/keywords your target market is searching for. 68% of all searchers don't go past the first page of results that is presented to them by Google. 98% don't go past the 3rd page. That puts the value of SEO in real perspective.
Do you really need SEO? I think the answer could not be clearer. Without SEO, you really are not on the internet at all because almost no one will be able to find you through the search engines.
When a prospect performs a search via a search engine, do they find you or do they find a competitor? SEO is your ticket to getting your target market to your website. That is because in order to be able to buy your products or services, your target market must first find and visit your site.
Why SEO takes time and requires an on-going investment?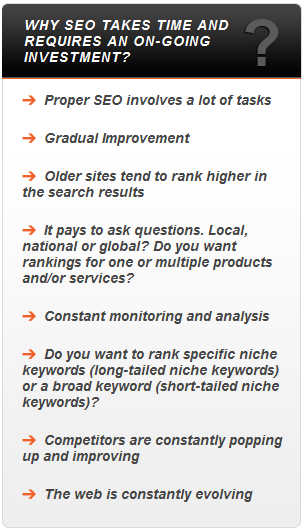 1. Proper SEO involves a lot of tasks

There are no shortcuts to getting long term top rankings in the search engines. Getting top rankings involves a lot of work, knowledge, experience, research and analysis.

These tasks include keyword research and analysis, website analysis, competition comparison and analysis, analytics setup and integration, content development, reporting and planning just to name a few. Just the initial stage/setting up of a good SEO campaign takes weeks of planning, research, setup, improvements and content creation just to get you ready to roll.


2. Gradual Improvement

The search engines have put in place algorithms to spot spamming or unnatural link building. Sites that are practicing these techniques will get penalized by the search engine.

Proper SEO takes time which means months and in highly competitive niches takes years but you are guaranteed quality, steady and lasting results which better serves your company in the long-run.


3. Older sites tend to rank higher in the search results

Older sites tend to rank higher in the search results. For brand new site it is rare to rank immediately.

Initially, a new site can't rank above the competition that has been around for years. These older sites have been assigned higher rankings and chances are good that they have spent more time creating content, getting links etc. and it just takes time to catch up.

Overthrowing your completion can be a tough hurdle because it requires a big investment in time, research, analysis and link building. But it can be done.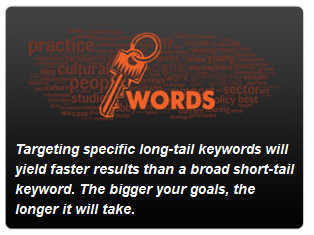 4. It pays to ask questions. Local, national or global?Do you want rankings for one or multiple productsand/or services?

If you are targeting a broader market, it will take moretime toachieve results. The more competition, the moretime it will be to overtake them all and the tougher it will be.You will have to be persistent.



5. Constant monitoring and analysis

Ongoing analysis is vital. Through continuous review, you will be able to determine what areas of your site still needs improvements or what other methods can be done do gain more traffic, more conversion, more sales.


Taking the time to really digest what's going on and then making the necessary changes or improvements takes time. But it is the best possible way to chart a course for success.


6. Do you want to rank specific niche keywords (long-tailed niche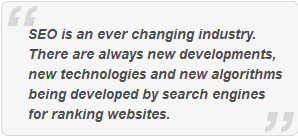 keywords) or a broad keyword (short-tailed niche keywords)?

For example you're selling "Sports Equipments" and you target a global market. Everyone in the world is a potential customer and every sports equipment site is a competitor. On the other hand let's say that another company sells water ski equipments instead of every type of sports equipment. You might still have a world-wide target market and many competitors. The difference is that now you are operating in a specific niche that is much more targeted. Targeting specific long-tail keywords will yield faster results than a broad short-tail keyword. The bigger your goals, the longer it will take.

7. Competitors are constantly popping up and improving

There are always new competition showing up. That means that even if you have achieved top ranks there is no guarantee that you will remain in that position. Someone is always trying to come along and bump you off to capture your business.

In fact for competitive niches you will need to fight to maintain your current ranking position because just like we try to raise your site to the top of the rankings, other competitors are trying to do the same thing. That means that so we must always need to keep working and improving.


8. The web is constantly evolving

SEO is an ever changing industry. There are always new developments, new technologies and new algorithms being developed by search engines for ranking websites. What is working this month might not work next month. This fact must have an influence on effectiveness of the campaigns being launched. That is why we spend many hours each week trying to keep up and keep learning. It's a never ending process.
Why is there such a price difference between SEO companies?

It is a simple truth that anything of quality will cost more. The same is true with SEO campaigns and strategies. Excellence comes at a price. We create quality content that represents your business and this cannot be done on a budget. However, all stages of the SEO campaigns that we do for you are streamlined for time and cost efficiency, cheap 'spam-style' blog posts with a few keywords thrown in will not get great results in the long term. The major Search engines (Yahoo, Google, Bing) are constantly changing their search algorithms to weed out low-end SEO practices.

1. Quality and Unique Content

Google loves content. There is a saying in the SEO industry that "Content is King" . That means that we must make content unique and of high quality.

Our Content Development Department consists of highly certified copywriters. We constantly check for duplicate content on the posts we make on the web through copyscape, one of the leading companies in detecting duplicate content on the web.
2. Gradual Improvement

A clear sign of poor quality SEO is if you see a sudden increase in your backlinks or rankings within just a few days or a week's time. But if this sudden spike in your backlinks or rankings is a result of clear and outright spamming, that might have helped your site for the moment. But before long you will see that site slide right back down where it came from or even fall further down in the rankings.

Proper SEO (4sprung Brand of SEO) takes time–weeks, months, and in highly competitive niches takes years but you are guaranteed quality, steady and lasting results which better serves your company in the long-run.

Only the legit SEO can provide your company effects not just this month but years down the line. SEO services of that nature will tend to cost anywhere between $500 a month all the way up to $10,000/month.


3. Solid Marketing Framework

Most of these cheap SEO service providers only have a basic understand of SEO and thus only implement what they know. These services are usually limited and do not have a wide coverage. They only focus on a select few marketing mediums such as social networking sites, bookmarking sites, press release sites and the like.

4sprung Brand of SEO follows a step by step process that we have developed through rigorous tests, experiences, research and studies. Each task is part of a marketing campaign strategy.
We closely monitor progress and effectiveness of each campaign and we make necessary changes if needed.
We follow a solid marketing principle, legitimate up-to date marketing framework and efficient and flexible service.


Any lock-in Contracts!?


We do not believe in long term contracts and are confident that we will provide you the results so you can change or cancel any time by giving us 30 days notice. We base our long term relationship with our customers on results. We never use and do not need lock-in contracts.
How do you maintain quality and excellence in the delivery of your product?

At 4Sprung, everything that happens in your SEO program goes through quality control performed by one of our high qualified project leaders. We stand behind our content creation service. It is 100% original writing that is written by 100% English-speaking web content developers


We use a hand-picked dedicated team for each area of your SEO campaign. Our SEO areas of expertise are Research and Analysis, Content Development, Website Development and Marketing.
We are all about clear and transparent communication! Your company will be directly involved in all processes and decision making. Every major change or decision will have your approval before implementation
We will provide simple weekly progress and activity reports. You will never be out of the loop about what is going on with your SEO program.

Why do I need On-page Optimization?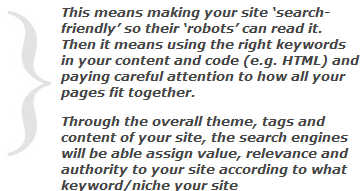 With growth of internet, thousands of websites have been registered. This has forced search engines to change their algorithms. One big factor the search engines look at for determining what niche your site belongs to and how authoritative your site is in that niche is through on-page optimization.

On-page optimization is a crucial part of SEO. It can make a big difference because it is an SEO ranking factor that must be capitalized and done properly.

On-page Optimization tells the search engines what your site is about, so they know what searches are relevant to your website.

Can you guarantee the #1 position on Google?

SEO is not an exact science. If it were then everyone would be at the top ranks.

There are hundreds of factors that come into play in-order to get top rankings. Because the search engines have such a complex ranking algorithm no one can guarantee #1 ranking on a fixed amount of time.

If you encounter any SEO company that attempt to offer such a guarantee, you it would be wise to stay away from them. Any authority in internet marketing and renowned SEO firms confirm that the best anyone
can do is to provide a rough estimate of how long it would take based on our experience, experiments and in-depth research and analysis of your niche.



Do you follow the guidelines set out by the search engines?


We follow a strict marketing principle and have device a marketing framework that follows the industry guidelines. We keep up to date with the new developments and trends in the industry to make sure the effectiveness of our marketing strategies. That is why you can count on 4Sprung to deliver quality SEO that has an eye on your long term success and prosperity in your online marketing efforts.