Quality Assurance
Quality Assurance Development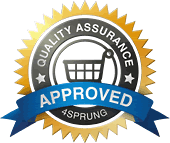 When that day comes to launch your exciting new e-commerce solution package from 4Sprung, you have a right to be excited. But one of the reasons for that excitement has to do with something very boring and downright tedious. The focused attention that 4Sprung puts on quality assurance testing may not be exciting but it is the backbone of why you can count on your e-commerce website and solutions package to work flawlessly.

The QA process that 4Sprung employs is nothing short of exhaustive. Our crack team of technical gurus know the ins and out of the shopping cart solution and other software programs that are being prepared just for you. They know the nuts and bolts of the system so before that package is delivered to you to put to work, they test every detail of that development from soup to nuts. That means that when we deliver your completed system, it will have gone through Q&A on the most up to date versions of the Internet Explorer and Firefox web browsers. In addition, 4Sprung is ready to perform Q&A testing on other web browsers at an additional charge for our customers.

The White Box QA software developers who test the inner gears of your 4Sprung e-commerce solutions are fanatical about routing out every bug from the development so that we can stand behind the final product with a performance guarantee that rivals any in the industry. But we do not stop with the technical geeks when it comes to putting that solutions software suite to the test.

You can also have us test the functionality and even the look and feel of every angle of your e-commerce online presence using our specialised Black Box QA testers who will be just as tough on what we are developing for you as the programmers were. In combination, these two teams of intensely devoted experts will make sure that what you asked us to put together for you works flawlessly day one and keeps on performing day after day to make the online face of your business explosively successful.