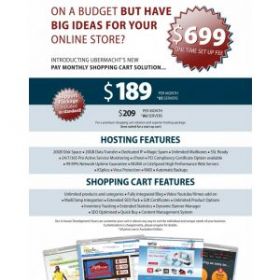 New Shopping Cart Pay Monthly Plans from 4Sprung
Get your new store online for a small set up and monthly fee – ideal for those store owners with big plans but small budgets!

We realise that around the world, consumers are spending less as the economic climate continues to deteriorate. As a result, small business are having to constrict their already limited budget to make up for this loss of revenue. With this in mind, 4Sprung has developed a set of new Pay Monthly Shopping Cart Plans.
These plans mean that for a small set up fee, and then an ongoing monthly fee, businesses can have a top of the line, custom designed shopping cart solution. Not only is the our cart incredibly powerful, we also have the advantage of a in-house development team which means we can customise your cart in almost any way to suit the individual and unique needs of your business.

All of our new shopping cart plans are either based on US or Australian servers of the highest quality, servers that we only use exclusively for our own clients. This means that our servers never exceed 40% capacity, and once this point gets close, we start a new server to maintain the highest levels of service for our customers. You can also rest assured that your new shopping cart will be secure on our servers as both the US and Australian based servers have a range of features as standard such as Magic Spam, Unlimited Mailboxes, constant pro active service monitoring, 99.99% uptime guarantee, virus protection and much more.

The actual shopping carts use the powerful 4S Shopping Cart system, which means you get a whole host of features that come as standard, and also means that you will be hard pressed to find such a wide range of custom features on any other cart system that is on the market at the moment. Some of the features include a Dynamic Homepage Banner Manager, Youtube/Vimeo addon, MailChimp integration, advanced predictive search and many, many more features. For an extensive list of all the features that the 4S Cart has to offer, compared to other shopping carts on the market, have a look at this comparison table (correct at time of publication).

We have 5 different plans available to suit a wide range of budgets so to get started with one now, or to inquire about further details, contact us or call us on +61 2 8033 2941